At Le Brévedent campsite, everyone is invited to play, share and experience music!
Music has been part of holidays at Le Brévedent campsite for many years. Music, whether at the café during the evening or in the garden during the day, is shared with goodwill.
The cicada wanting to sing all summer is spending her holidays at Le Brévedent!
During the high season, in July and August, the Castel camping du Brevedent comes alive with music.  Two nights a week with concerts of acoustic songs and Sunday afternoon for Jazz aperitifs. Tuesdays and Fridays have become essential appointments for holidaymakers in Brévedent. Les Ratures, the French song group of Raphaël and Simon, open all these evenings with songs from the classical repertoire of the French song as well as compositions. They take pieces from authors such as Jacques Brel, Georges Brassens and Charles Aznavour, as well as with their own compositions. No need to understand the words, their energy is communicative. In the Ratures sometimes, Simon is on the piano, Mat on percussion, Lysiana on violin, Tony on double bass, Boubouche on guitar, Micka on trombone and Tigat or Uriel on guitar and vocals and Raphael on vocals. The recipe for festive and warm evenings!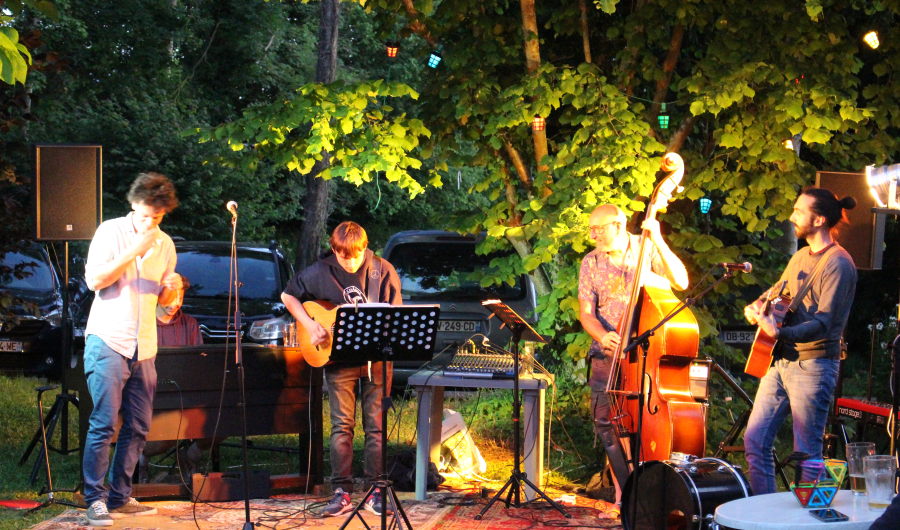 Tuesday and Friday evenings are usually in front of the café. On the lawn in front of the castle that we meet, and the music is played with heart. One on the covered terrace of the café or directly in the grass and it is a small festival that begins.  Very quickly the hands of young and old beat the rhythm in unison. And if he feels like it, the spectator can sit in front of one of the instruments on stage or bring his own and play a piece. All musicians, herbal or seasoned are welcome, and every week is a surprise. One thing is for sure, you will have a great time in music!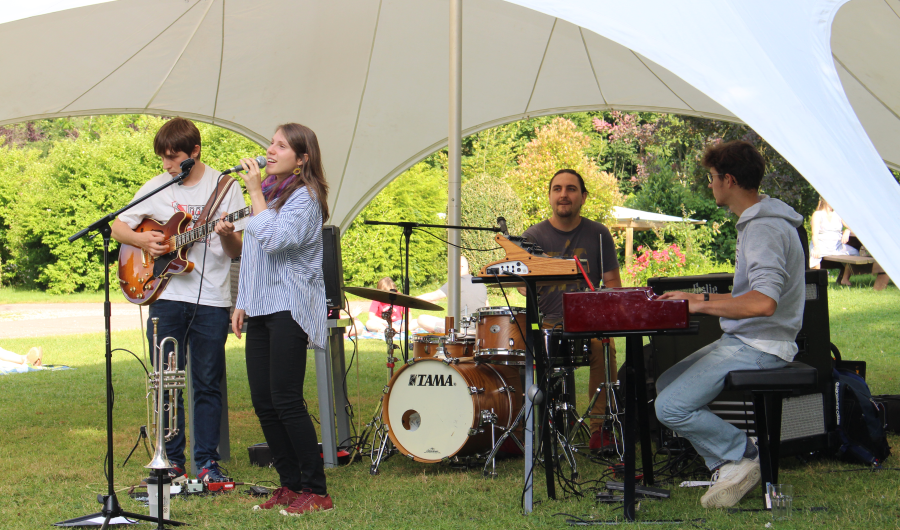 On Sunday afternoon, it is the Jazz aperitif in front of the café. Take a seat in the sun with a beer or a glass of wine, accompanied by a plate of Norman aperitifs and enjoy the atmosphere. Jazz FC is a very talented and generous band, and they are young! They revisit jazz standards with good mood. The atmosphere of Sunday Jazz aperitifs at the Brévedent is the best way to return to this holiday. Experience the chill-out atmosphere of music in the middle of nature and with the family. Welcome to the Brévedent campsite!
The atmosphere on concert nights is always warm and friendly, and also respects the peace and quiet of the campsite. The volume is controlled and the music stops by midnight.