Brévedent, on the grounds of a castle in Normandy, is a historic campsite belonging to the Les Castels chain!
Les Castels is a chain of campsites renowned for excellence. The campsites are all located on castle grounds or on an exceptional site. They are all independent and they all want the same thing – to give you the warmest welcome!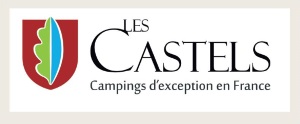 Les Castels is so much more than what you see in the photos.
It has a 96% customer satisfaction rate!
Les Castels: A history…
Les Castels has been welcoming campers to its family properties since 1959. Each owner has promoted their historical, natural and culinary heritage while welcoming campers.
Over the years, the sites have been developed and the pool has become a key asset for holidaymakers, as has the restaurant for campsites deep in the countryside. Some sites have become models of modernity in terms of tourism, such as this Castel site 30 minutes from the Bay of Mont-Saint-Michel, creating several restaurants, a water park, a wave pool, a luxurious spa, a riding school, an 18-hole golf course, a disco and entertainment for everyone. Others have continued to change, choosing to offer simplicity, friendliness, nature and a personal welcome.
However, all Les Castels sites share the same sincerity and readiness to welcome customers as guests in spacious and remarkable settings.